Welcome to my world !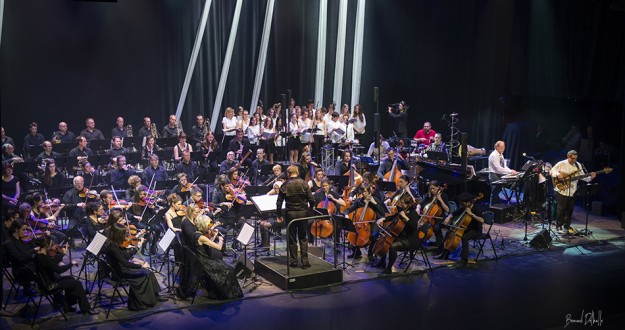 ---
CROSSROADS
Commissioned work of Pas -de- Calais department , Crossroads is musical concept,fully dedicated to symphonic orchestra; a demanding task around 10 tracks , Michel Sanchez will be driving keyboards and piano surrounded by talented musicians , Fred and Savinien François Taillefer on percussions , José Luis Montiel on bass and Cuban songs, Mohammed Abdenebbi at dance and vocals, and a thirty teenagers choir, for concerts in May 2014.
the orchestra will be driven by Eric SCREVE .
The orchestrations were written by Jean Philippe Vanbeselaere , Jean Robert Lay, Eric Screve .
The soloists are Cassilda Rodriguez , accordion ; Alain Pereira, tenor and soprano sax .
I am proud to talk a bit about this symphonic project " Crossroads " , commissioned by the General Council of Pas de Calais. It's been written for éducational purposes , which allow students from classical academies to play a different genre, with jazz, world and electronic flavours. The percussions provide a wide range of colors that underpin the orchestra, rhythmically very busy as well. There will be some video extracts on this site in the coming months.
I've also in mind to enrich, step by step, the " Eliott "player to become a full record's lenght. I wrote a lot of music these last past years, and wish to share what i feel as the best of them with you.
I'll also mix some new songs , still in a keyboards environnement. As soon as the the symphonic concerts will be released , I'll return to my computers to let you hear new things very quickly and regularly.
CROSSROADS
Oeuvre de commande du Département du Pas-de-Calais, qui a nécessité une écriture entièrement dédiée à l'esprit symphonique, un travail de titan autour de 10 titres, Michel Sanchez sera aux commandes des claviers et du piano entouré de musiciens de talent, Fred Savinien et François Taillefer aux percussions, José Luis Montiel à la basse et au chant cubain, Mohammed Abdenebbi au chant, pour des concerts en mai 2014.Un choeur de trente adolescents.
l'orchestre sera dirigé par Eric Scrève.
Les orchestrations sont signées par Jean Philippe Vanbeselaere, Jean Robert Lay, Eric Scrève.
Parmi les solistes: Cassilda Rodriguez, accordéon; Alain Pereira, sax ténor et soprano.
Je suis fier de vous parler de ce projet symphonique « Crossroads », commandé par le conseil général du Pas de Calais. C'est un projet à vocation pédagogique, qui permet aux élèves des conservatoires de jouer une musique à l'esprit voyageur, teinté de jazz et d'électronique. Les percussions apportent une large palette de couleurs sur lesquelles s'appuie l'orchestre, très sollicité rythmiquement lui aussi. Il y aura sur ce site, dans les prochains mois, des images de ces concerts.
J'ai aussi à coeur d'enrichir l'album naissant « Eliott », de nouveaux morceaux au fur et à mesure de leur finition et mixage. J'ai, en effet, engrangé beaucoup de musique dans mes ordinateurs ces dernières années, et souhaite en partager un peu avec vous.
Il y aura aussi quelques chansons nouvelles, toujours riches en claviers bien sur. Après les concerts symphoniques, je retournerai à mes ordinateurs pour vous faire entendre de nouvelles choses très rapidement et régulièrement.

---
News
"Hello, Time is passing fast, but i go on to record, arrange new songs; i put three new songs in "The Man and the machine" player today.
Don't hésitate to say what you feel about them.
I'm no practising piano, in order to record very soon (in about three weeks) five or six piano pieces, as well as accordion pieces a bit later. Receive my deepest thoughts. Michel".
News
"Hello, le temps passe très vite, mais je continue d'enregistrer et arranger de nouveaux morceaux. J'ai ajouté trois nouvelles chansons au player "The Man and the Machine" aujourd'hui. N'hésitez pas à me les commenter si vous le voulez.
Je travaille beaucoup le piano, afin d'enregistrer très rapidement cinq ou six pièces, ainsi que l'accordéon. Recevez mes meilleures pensées. Michel".